Updated 4/10/2023
As a health care provider, you understand that creating clinical notes is a critical responsibility. New in the latest version of Dentrix, the Dentrix Signature Manager gives you the tools to make sure that those notes are completed properly.
When you open Signature Manager (using the icon found in the Appointment Book or the Patient Chart), you'll see the patients with appointments on the schedule today and whether their clinical notes are missing, unsigned, or signed. Click the column headers to sort the list chronologically by appointment or alphabetically by patient name. Use the Provider and/or Status filters to narrow the list down to specific groups of patients.
As you click each patient's row, you can create missing notes or read and edit existing notes. As you review existing notes that have not yet been signed, check them off in the left column. After you have reviewed all of the unsigned notes, click the Sign/View Signature button from the top toolbar, and you can apply your digital signature to all of the selected clinical notes at the same time!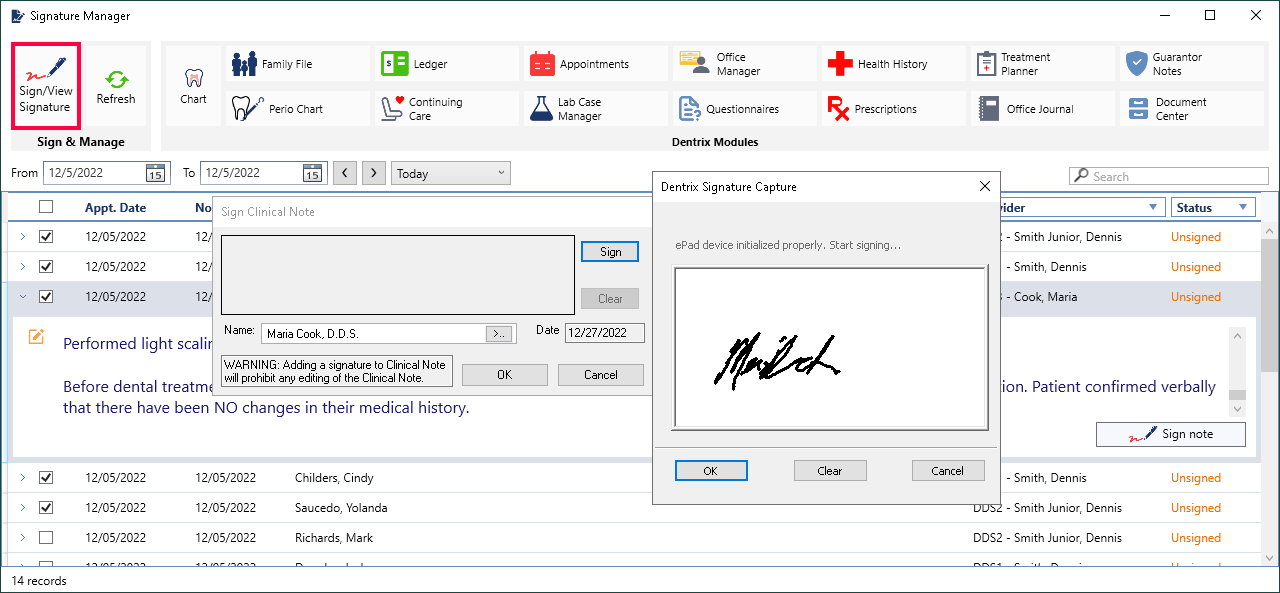 To learn more about the Signature Manager, read Sign Off on a Smoother End of Day Using the Signature Manager in Dentrix Magazine.
For the latest updates to the Signature Manger visit the What's New with Dentrix blog.